Warm yourself with yarn spun from soft Afghan Hound fur….and warm the heart of once unwanted Afghan Hounds through your support.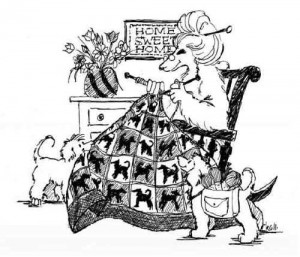 "Pen and Ink Drawing by Kirk Kroll. May not be reproduced without the written
permission of Kirk Kroll, Ruth Weddle, Our Afghan, and Weddle Publications."
A Very Special Thank You
The AHCA's Afghan Hound Yarn for Rescue Project and the Afghan Hound Community expresses our deepest appreciation and gratitude to Joslyn Seefeldt, a professional spinner and Samoyed Rescuer for generously giving of her time and talents to insure that our Yarn Project is successful. Without Joslyn's inspiration, consultation, and guidance the Yarn Project would have never gotten off the ground. Thank you, Joslyn, for your generosity and kindness.
Our "Yarn for Rescue" project is a fund-raiser for the Afghan Hound Club of America, Inc.'s Rescue Program, which provides financial assistance for the veterinary expenses of rescued Afghan Hounds throughout the country. The yarn is made from the fur of Afghan Hounds, donated by some of the country's top show dogs, international champions, "up and coming" stars, and pets who know the luxury of a loving home.  Donations of fur also come from the now healthy coats of Afghan Hounds adopted through rescue programs.
So often, abandoned, neglected, lost, and unwanted Afghan Hounds must be shaved to the skin by rescuers because of matted coats. Their ability to now donate fur to our project symbolizes an end to their former lifestyle…and a new beginning for other Afghan Hounds down on their luck.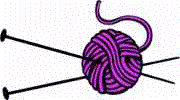 What is Afghan Hound Yarn?
Interested in Donating Fur?
Interested in Donating Your Talents? Knitted, Crocheted, or Woven Items Needed
Help Us Spread the Word
Ordering Information
How do I take care of my Af Yarn Items?
What is Afghan Hound Yarn?



The fur from show dogs, pets, and rescued Afghan Hounds is woven together to create a luxuriously soft and exotic yarn in the beautiful natural colors of the Afghan Hound. Our first yarn available for sale is "Tazi Heather", a blend of the black, blue, and silver Afghan Hound fur donated, mixed with a gray and black marbled wool. The blend with sheep's wool gives the yarn body and "bounce". Other "Tazi" colors will be available in the near future.
Interested in Donating Fur?



AHCA's Yarn for Rescue Project is an ongoing fund-raiser. Donations of fur, whether it is collected from brushes while grooming, or from clipped down coats, is always needed. The fur must be mat free (the carding brushes at the mill are similar to slicker brushes; if you are unable to separate a mat with your fingers and a brush, the carding brushes will not be able to either). Please separate your fur by colors.
Interested in Donating Your Talents? Knitted, Crocheted, or Woven Items Needed.

We will provide the fur if you will provide your talent. Items made from Afghan Hound fur will be sold, raffled, or auctioned as another means of raising money for rescued Afghan Hounds.
---
Please send all donations to:

AHCA's Yarn for Rescue Project

Help Us Spread the Word



Please pass this information on to others who may be interested in either donating fur and/or purchasing yarn.


The yarn will be sold in 2 ounce skeins.
There are 150 yards of yarn in each skein.
Cost per 2 ounce skein is $12 US + shipping & insurance
Below are the insurance rates:
$00.01 to $50.00 = $0.85
50.01 to 100.00 = $1.80
100.01 to 200.00 = $2.75
200.01 to 300.00 = $3.70
300.01 to 400.00 = $4.65
400.01 to 500.00 = $5.60
1 skein: add $1.00, each additional skein, add 50 cents
International orders:  Actual cost, and subject to all import/export regulations
Please make checks payable to:
(at present we are unable to accept credit cards)
---
How do I take care of my Af Yarn Items?



Af Yarn items should not be dry cleaned because dry cleaning is a harsh process that robs natural fibers of their luster nor do we recommend Woolite.  
Many experts also recommend the following method for laundering wool.
We recommended laundering your Af Yarn items as follows:
Using cold water and mild dog or human shampoo, soaking your Af Yarn items for approximately 15 minutes. Be sure NOT to wring or agitate your Af Yarn items as this encourages felting.

Rinse your Af Yarn items by soaking them in fresh cold water until all the soap is removed.  DO NOT run water directly on the Af Yarn item as this also encourages felting.

Once the shampoo has been thoroughly removed from your items, soak your Af Yarn items in cold water and dog or human conditioner for approximately 15 minutes.

Use a cream rinse as you did for the shampoo.

Roll your Af Yarn items in a clean bath towel to remove excess water. Block the items to its original shape and dry flat at room temperature.
Your Afie Yarn items is ready to wear and enjoy.