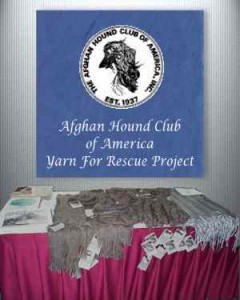 Welcome to the Yarn Project Showcase. Below you will find items that are made from Afghan Hound yarn. The proceeds from the sale of these items will be used to support orphaned Afghan Hounds. 
Items for Sale
Please make checks payable to:

AHCA RCT (at present we are unable to accept credit cards)   Please send orders to:


Click on photo to enlarge then click "Back" on your browser to return.

Mohair Band Specialty Hat, trimmed with black, gray, and brown marbled Mohair with silver metallic yarn – Stock #20 $60.00
Scarf – Stock # 36 Price $80.00
 Tazi Sand yarn at $12.00/skein-wool blend
 Tazi Heater Yarn at $12.00 for a 2 oz skein-wool blend We also have Tazi Heather Yarn at $64.00 for an 8 oz skein.   This is an Alpaca Blend and is beautiful!