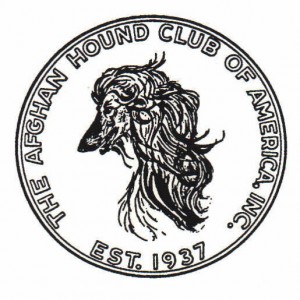 AHCA Rescue provides support, coordination, and financial assistance to a national network of volunteers. Our goal is to ensure that veterinary care, including spaying and neutering, temperament evaluations, foster placements, and loving, permanent homes are provided to homeless Afghan Hounds. AHCA Rescue receives its funding from individual contributors, fund-raising items and events, and from donations by regional Afghan Hound clubs.
 Original Watercolor Auction!
Original Watercolor, by Hope Leedom, a generous and talented artist. Hope has donated this beautiful artwork to Afghan Hound Club of America for Rescue. It is a large piece, approximately three feet high, by two feet wide with exquisite parchment matting, and gold gilt frame. These photos do not do it justice…
 I am going to auction this great watercolor on EBay in a few days. We have had a lot of afghans come in to rescue this month, and have spent gobs of money on medical bills. Hoping that Hope's generosity will be matched by a generous bidder!!!
       — Martha Powell
---
 If you would like to make a donation to rescue…. send funds payable to:
AHCA RCT
c/o Martha Powell, Rescue Chair
251 Warwick Lane
Alabaster, AL 35007
You may also donate using PayPal:
---